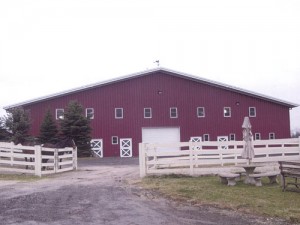 Winters in Canada can be taxing, to say the least. We at M44 Building Company recognize the many variables in the needs of the equine industry, particularly in Canada, where the weather plays havoc with training schedules and athletic performance of animals and riders alike.  There has been renewed interest in horse ownership over the past decade, resulting in greater demand for riding lessons, training facilities, and an increasing number of horse shows and competitions.
Our knowledgeable team, backed by more than 15 years of experience in the pre-fabricated metal building industry, can help you design the perfect riding arena, with or without living quarters, to suit your needs and budget. Our consultants will work with you to plan an interior space that is well-lit and airy and the right size so horses don't get spooked. Your arena will be assembled by a well-trained crew using high-quality pre-fabricated components that M44 Building Company sources from established, recognized suppliers in Canada and the United States. You will have a structurally-sound arena that will protect horses and riders from the elements for years to come. We can advise you on all kinds of options to make your arena special, including kickboards; special material under the roof to prevent condensation from falling as "indoor-rain"; various types of doors; and a variety of finishes.
Want an exciting summer season?  Why not email your ideas to us today?