This article is also available as a PDF: Faced Metal Building Insulation specs
Description
Faced metal building insulation is a high-quality fiberglass blanket used for metal building applications.
Silvercote's Faced Metal Building Insulation:
• Reduces Energy Costs
• Helps Control Condensation
• Improves Noise Control
• Provides Enhanced Light Reflectance
• Can Be Left Exposed
The recovered R-values of all Silvercote faced metal building
insulation products are guaranteed prior to installation.
Available Products

Application
Laminated fiberglass insulation is a widely used form of insulation for metal buildings. Laminated fiberglass insulation blanket is used in a variety of installation methods; however, it is typically installed between the structural steel and sheeting. Hot melt adhesive lamination provides a smoother finish, allowing blanket to be installed with appropriate droop, while still providing a clean interior appearance.
Technical Data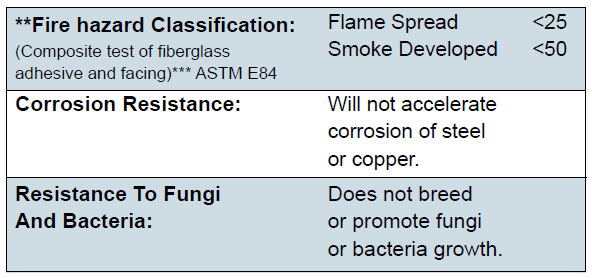 **The above flame spread and smoke development rating was determined in accordance with ASTM E84. This standard is used solely to measure and describe properties of materials and products in response to heat and flame under controlled laboratory conditions. This numerical flame spread is not intended to reflect hazards presented by this or any other material under actual
fire conditions.
NOTE: Condensation blanket is NOT sold as a thermal barrier. The insulating
value of the product is negligible and should NOT be utilized in conditioned
or semi-conditioned buildings where thermal performance of any degree is
required.
**Excludes white vinyl faced fiberglass.
Compliance and Specification Data
ASTM C665 – Type II Class A, Type III Class A
ASTM E84 – (Flame spread, smoke developed) <25, <50
ASTM C167
ASTM C991
ASTM C553
Tolerances subject to normal manufacturing variations.